Diet Tips…As Easy As A-B-C!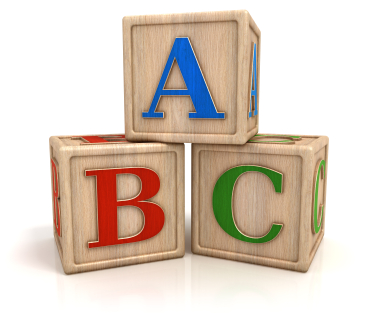 Healthy dieting is as easy to remember as the alphabet!  This article provides an alphabetic way to remember some tips to help you eat better.  It's as easy as A-B-C!
Add Healthy Items To Your Diet
Think back to when we were kids and our parents told us not to touch the hot stove, what was the first thing we reached for?  You got it…the hot stove!  It's against human nature to be able to follow all of the rules all the time.
The same is true with our diet.   All too often, we focus on the negatives, "Don't eat this.  Don't eat that.  Don't go above a certain number of calories…" It's hard to stay within so many constraints with something we literally must do several times a day – eat!
Once we know the types of food that are healthy, we can gradually start adding some of these foods to our diets.  Eventually, unhealthy foods will be replaced by healthier choices.  Before you know it, those french fries and potato chips are a long lost memory!
By creating habit patterns and avoiding drastic changes, we reduce the chances of going back to our old unhealthy habits.  We also create a lifestyle change, which is ultimately our goal.  You may not notice the subtle change, but before long, your diet will mainly consist of healthy foods.
Notice I said mainly, not totally. We all have our vices, and the truth is that we should be able to enjoy them…in moderation.  Believe me, no one is going to tell me that I can't have my mom's sweet potato pie at Thanksgiving!
Breakfast – Truly Important
Breakfast gets its name from "breaking the fast."  After a night of sleep, your body is in a deprived fuel state.  The body needs fuel to start the day just as your vehicle needs fuel prior to a long trip.
Eating breakfast ends your body's fasting state and jumpstarts your metabolism, allowing you to burn more fat.  Breakfast also provides nutrients, energy, and reduces hunger later in the day.  If you are trying to lose weight, skipping breakfast does not help.  Skipping breakfast will have a negative effect on your metabolism and cause you to store greater quantities of fat.  We'll talk more about this in a moment (see letter "D", below).
Many people decide to skip breakfast because they think they shouldn't eat before they workout.  Breakfast is even more important in this case!  The body requires fuel, especially for exercise.
Eating breakfast doesn't mean you have to cook bacon, eggs, and toast.  It just has to be enough to provide some nutrients and break the fasting state.  Try any healthy food such as a piece of fruit, a bowl of cereal, oatmeal, or a whole grain toaster waffle.
Carry Water and Healthy Snacks
We've all been there.  You leave the house for what you think will be a few minutes and end up being away from home for hours.  The culprit could be traffic, your sudden recollection of other errands, or your significant other calling for you to pick up a few items from the store.  Now you're hungry and all you see are golden arches and sign after sign for "Real Angus Beef."  What's a person to do?
Well, the answer is to plan and anticipate the unexpected.  When we are left with bad options for food, we're likely to make bad choices. In order to eat healthy, we must have healthy foods available.  Carry a bottle of water and healthy snacks like nuts, fruit, and other things that you can keep in your car, purse, or briefcase.  This may prevent you from making a bad diet decision.
Don't Starve Yourself
You must eat to lose weight.  Sounds crazy, I know.  But once you realize how the body functions, it becomes clear.  The first thing to note is that metabolism doesn't burn calories.  It determines how fast our calories are burned.  Muscle burns more calories in our body because it is more metabolically active.
Two things happen when you don't eat for several hours.  First, there is a tendency to overeat when you finally get a chance to eat a meal.  Secondly, the body goes into "energy conservation" mode.  It thinks, "I'm not getting any fuel or calories (energy) so I better conserve what I have."  To conserve energy, the body actually stores fat and gets rid of muscle because it knows fat will provide the most energy.
Remember, the body doesn't understand that we want to keep muscle to look good.  Its only concern is sustaining itself and functioning efficiently.  Think about this process as a fire burning in a fireplace.  The fireplace is your body.  The fire is your metabolism.  The wood we put on the fire is the food that we eat – the fuel.  If we don't put any wood on the fire for 2 or 3 hours, the fire will die down, just like your metabolism.  If we keep putting wood (i.e. fuel/food) on the fire, it will continue to blaze!
We want our metabolism blazing all day long if we can.  Eating every 2 to 3 hours will help achieve this.  The body should know that it has more food/fuel coming in so there's nothing wrong with burning the fat that's stored in our bodies.
Eat to feed your body, not your appetite.
This concept is much easier said than done, but vitally important nonetheless.  The original purpose of food and sustenance was to provide the body with the nutrients needed to sustain life.  Over time, we've become accustomed to eating for pleasure.   The downside of this type of indulgence on a repeated basis is a negative impact on our health.
Remember the following:
Limit portion sizes.  When eating out, opt for the lunch size or smaller portions if available.  When preparing your own plate, start with a smaller amount of food.  It's better to go for a second helping rather than try to stuff yourself.
Don't be afraid to leave food on your plate.  When you feel satisfied, stop eating.  Save it for another meal, give it away, or just let it go.  Many dishes served in restaurants provide enough food for two or three meals.
If there's a healthier version of your food choice, consider eating that instead.
Opt for foods that give you a feeling of "fullness."  These include nuts and whole grains.
About the Author:
Coach T. is an ACE Certified Health Coach and an NSCA Certified Personal Trainer. Follow Coach T. and TD Fitness on Facebook, Twitter, and Pinterest.