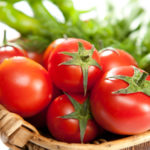 The Takeaway:  The food we eat today is different than that of the past. This is largely due to the amount of processing that occurs today. It's important to know that eating heavily processed foods oftentimes means eating less healthy. See the bulleted list at the bottom of this post for some ways to ensure the food you eat is truly natural.
When I was young, my father had a garden. I remember helping him and my mother plant, weed, and later pick fresh fruits and vegetables that we had grown ourselves. I'll never forget the taste of a fresh tomato, grown in our own garden and ripened to perfection…
As I grew older and started shopping for myself, I realized that the tomatoes in the supermarket did not have the same flavor as those that I had grown up on. At the time, I didn't understand why, nor did I really think too much about it. But now, being an advocate of health and fitness, I pay more attention to where my food comes from. I read and study to understand what I'm putting in my body and to help you understand the same.
I recently watched the 2008 documentary, Food, Inc. This film examines corporate farming – the way we get almost all of our food in the United States. It was eye opening in the sense that I had no idea of the amount of processing, mass-producing, and preserving that takes place to bring an item such as a vegetable to my plate.
It's a little alarming when you pull back the curtains and reveal processes and practices taking place that directly affect your food, and ultimately your health.  I'll let you watch for yourself and draw your own conclusions. The point here is to raise the desire for awareness among those who may not know or be concerned with where their food comes from or how it gets there.
Here are a few things you can do (taken from Food, Inc.):
When you go to the supermarket, choose foods that are in season
Consider organic choices
Read labels
Know what you buy
Buy foods grown locally
Shop at farmers markets
Plant a garden, even a small one
Cook a meal with your family and eat together
Ask the school board to provide healthy lunches
If you say grace, ask for food that will keep us, and the planet healthy
In case you're wondering what happened to the tomatoes that I was accustomed to from our garden as a child, I've learned that most of those in grocery stores are either injected with preservatives or ripened by gasses after they are picked. The process takes the natural flavor away. But you'll be glad to know that I recently shopped at a local farmers market and found the flavor that I had been missing all these years!
Yours in health,
Trainer T.
About the Author: Trainer T. is an NSCA Certified Personal Trainer, founder and owner of TD Fitness. Do you have a question or would you like more health and fitness information? Follow Trainer T. and TD Fitness on Facebook and Twitter. Click here to receive our free monthly newsletter filled with advice and tips to keep you healthy!