Are You Making the Right Milk Choice?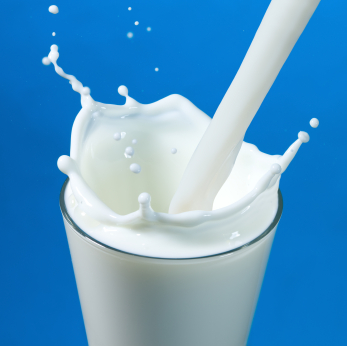 The Takeaways: 1) Low and no-fat milk options aren't necessarily better for weight loss than whole milk. 2) Milk replacements can be healthier choices to limit saturated fat intake. 3) Some milk substitutes can be high in sugar, so beware!
These days you need a decoder ring to understand the many choices associated with some of the staples of your diet. Milk is no different. There's skim, whole, soy, almond, 2%…the list goes on. Like you, I've often wondered what the different names and numbers mean. I decided to research the topic and this month, I'll attempt to explain the differences and what you really need to know.
What Do the Percentages Mean?
Let's start with the different percentages associated with traditional cow's milk. The percentage listed indicates the amount of butterfat (milkfat) by weight. Skim milk has none (zero percent), there are 1% and 2% versions, and whole milk contains 3.25% butterfat. There are even creamier versions that are up to 6% and 8% milkfat. After drinking low fat or skim milk for a while, these creamier versions could be a little "hard to swallow."
Many shoppers choose which type of milk to buy based strictly on these percentages. (Yes, I'm guilty.) But recent research has shed a new light on the fat vs. non-fat milk debate. As it turns out, there is little evidence to show that those who drink lower fat versions are healthier than those who drink whole milk. In one study, researchers examined almost 11,000 children drinking different types of milk. Those who drank skim and 1% milk surprisingly weighed slightly more than those who drink whole and 2% milk (Scharf, Demmer, & DeBoer).
Alternatives to Milk
Milk alternatives are also growing in popularity. In some cases, shoppers look to avoid the lactose content found in milk. Others are looking to cut back on saturated fat, calories and hormones. The "faux" milks are sourced from a huge variety of different foods including soy, coconut, rice, almond, oatmeal and even quinoa. Each type is basically a water-pressed version of a food with added ingredients for texture. They can be just as creamy as cow's milk yet come in a variety of flavors, and provide even more nutrients in some cases.
Soy and almond milks can provide heart healthy fats in place of saturated fat. They can be a better choice for those looking to maintain or improve bone mineral density. Since some of these milk alternatives are supplemented with just as much calcium as you'd find in dairy milk, they can be a better bone-forming choice.
If you do look to milk alternatives, you should watch out for unhealthy additives. For example, some contain large amounts of extra sugar. Some of the more popular brands of soy, almond and coconut milk can have as much as 5 teaspoons of sugar in every serving! Look for plain or unsweetened low-calorie versions. They may be harder to find but they'll come without this excess sugar.
Which Should I Drink?
So which should you choose? Much depends on your personal situation and health goals. Dairy is a good source of protein and potassium. An active adult or young athlete may be inclined to drink cow's milk for the extra protein. Those trying to lose weight might want unsweetened milk alternatives to help cut calories. Those following a heart healthy diet may want to try soy or almond milk for increased heart protection and to avoid dairy's saturated fat. Ultimately, the choice is yours…but whichever you choose, now you have the right tools to decide!
About the Author:
Coach T. is an ACE Certified Health Coach and an NSCA Certified Personal Trainer. Follow Coach T. and TD Fitness on Facebook, Twitter, and Pinterest.