Portion Sizes – When Did Things Change?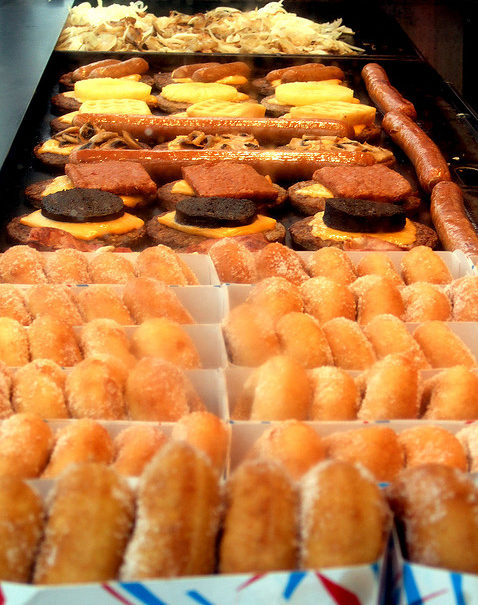 It's not often that I eat fast food, but there are times when I indulge or run through the drive-through out of convenience. I have to share one of my recent fast food experiences because it relates to a concept that we often overlook, yet one that is critically important to weight management. I was traveling for work and had just landed at my destination. After picking up the rental car, I headed to the hotel and decided to pick up some fast food on the way. In trying to preserve some semblance of health despite the empty calories I was about to consume, I asked for a small soft drink instead of the normal medium or large size. There was silence on the other end. Apparently, my unusual request had caused a glitch in the system…after all, who asks for something smaller these days?
At what point did our society ditch the small option for meals, pizzas, drinks, ice cream cones and such? I suppose we could contemplate this question, but what's more important is this – what can we do about it? We live in an age where meals are bigger, large portions are cheaper, and unhealthy food is both convenient and prevalent. Most restaurants don't even offer a small option anymore. We now see meal sizes from medium to super-sized.
It's becoming increasingly difficult to manage portion sizes, but ultimately the choice on how much we eat is still ours. For those of us that grew up in a household where we didn't "waste" food, cleaning your plate was ingrained early in childhood. It's sometimes hard to overcome this mental block, but given what we now know about health, a change is necessary. Here are a few tips to help you manage your portion sizes:
Order smaller portions. Many restaurants carry a lunch-sized portion. Even movie theaters typically have a children's meal that includes a smaller serving of popcorn and a small drink.
When cooking at home, serve yourself smaller portions and come back for more only if you're still hungry.
Don't mindlessly eat everything on your plate. Be cognizant of your body's signals telling you you're full. If you're chatting or watching TV while eating, take note of when you're no longer hungry…and stop eating.
Use a smaller plate. Smaller plates hold less food. Period.
When eating out, ask for a to-go box before you start eating and place a portion of your meal in the box immediately.
Don't be locked into eating more when you don't have to. Managing portion sizes is a key element in calorie control. We may have lost some control over how much we're served, but we can still control the amount we eat.