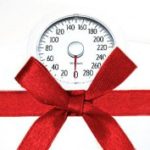 The holidays don't have to be a diet killer. Registered Dietitian Mary Perry of Dynamic Nutrition gave us a wealth of information to help you keep your diet in check over the holidays. I've listed some of the tips here. Visit Mary at dynamicnutritionservices.com.
Limit the amount of holiday baked goods you keep in the house. Much of the weight gain that occurs during this time of year comes from the days surrounding the actual holiday. To avoid munching for the next several days, give away or get rid of excess sweets. Then you won't be tempted!
Eat a small meal, nutritious snack, or drink water before you attend events or parties. Don't starve yourself leading up to a holiday meal.
At holiday buffets, survey the offerings before going in with your plate. Choose foods you really want, limit portion sizes, and go for the foods that are lower in calories.
Eat your calories instead of drinking them. Sugary drinks and alcohol contain more calories than diet drinks and fruit juices.
Drink water between alcoholic drinks. The water will help you stay hydrated, keep you full, and reduce the effects (and after-effects!) of alcohol.
Don't feel like you have to clean your plate.
Be careful of mindless eating, where you're munching while mingling or watching TV.
Make time for sleep and rest. Following a healthy diet can be hard if you're not well rested. As a bonus, being completely rested makes you less susceptible to holiday colds because your body is better equipped to fight off viruses.
Remember the true reason for the season. Take time off, enjoy time with family, friends, and loved ones.
Enjoy yourself. Don't worry yourself over a few extra calories. Just be smart and continue to work toward your fitness goals as 2012 rolls around!
About the Author: Trainer T. is an NSCA Certified Personal Trainer, founder and owner of TD Fitness. Follow Trainer T. and TD Fitness on Facebook and Twitter. Receive our free monthly e-newsletter.