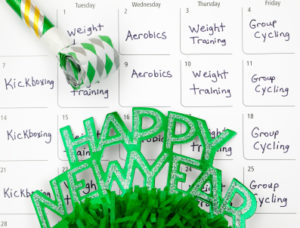 We all need to go back to the basics from time to time. Here are five tips to keep you grounded and on the right path to health and fitness as you start the new year.
Tip #1:  Set reasonable, attainable goals.
When you set a huge goal, it can be so daunting that you never actually commit to it. Subconsciously, you know that it is not possible for you to reach it, so you slowly start to lose motivation and drive. Try setting an overall goal for the year (but keep it specific), then break that goal down into smaller monthly goals. Then break your monthly goals into weekly goals, and your weekly goals into daily goals. This allows you to focus on one day at a time, and capitalize on motivation and confidence to achieve your daily goals. Remember, to have successful years, you have to have successful months and to have successful months, you have to have successful weeks, and successful days. So, set realistic daily goals and take this year one day at a time.
Tip #2:  Stay Motivated!
Motivation can be the most powerful or the most limiting emotion, and motivation is required in most aspects of your life, not just in your fitness and heal goals. My nephew recently recommended a book entitled The Motivation Manifesto, by Brendon Burchard. He showed me a few passages from the book and it will absolutely be my first read of 2017. Some very powerful words…if you're looking for something to get you out of a rut or to help refine your goals, grab a copy.
Tip #3:  Stay Strong!
Temptation, doubt and laziness are around every corner. When it comes to tempting food, or snacks that you love, think ahead and plan what to do to avoid those things. Have healthier snacks ready to go, plan your meals ahead of time, etc. Its ok to reward yourself every now and then, but don't let that small victory treat derail you from your track to success.
Don't let others' doubts (or your own doubts) keep you from making progress. Stay positive and avoid negativity. Let your actions speak for you.
As for the laziness monster that lurks in our midst, you can avoid him with some simple daily planning and an efficient sleep schedule. Make sure you are getting the proper amount of sleep, go to bed earlier if you have to, but make sure your body gets the rest it needs. It will help with your attitude, energy, and focus – all things you can use to combat the laziness that might be effecting your progress.
Tip #4:  Find what works for you.
In today's world, there is an abundance of information regarding health and fitness. There are many so-called "magical" solutions for your diet or fitness woes. The truth is that everyone's body is different and responds differently to various types of diets or fitness plans. Its ok to try something to see if it works for you, but don't believe every Billy Buff or Sally Sixpack that you see on commercials and magazines. The best thing for you to do is consult with a fitness professional and to see what works best for your body type, age, and time constraints. Once you have that information, stick to it! It's up to you to keep the progress going.
Tip #5:  Celebrate!
After all that hard work, enjoy the fruits of your labor. Plan a nice vacation or trip somewhere to celebrate and show off the new you. If you plan the vacation months in advance, it will serve as one more source of motivation and give you that extra boost of willpower when you need it most.
None of this should be new to you, especially if you've followed TD Fitness for any length of time. If you take nothing else away from this, remember this…you can absolutely achieve the goals you set out to accomplish. It simply requires a plan, and sometimes a little support along the way. Have a great 2017!
Yours in health,
Coach T.