Avoiding Common Leg Injuries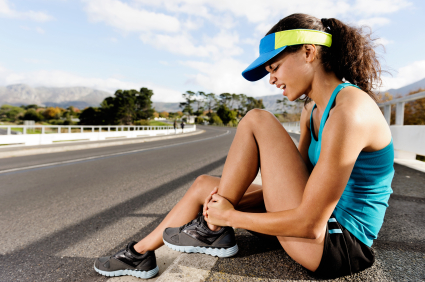 Recently, a couple of friends of mine (both very fit individuals) have been somewhat sidelined due to injury. One suffered a pulled hamstring while training for a marathon and the other sprained his ankle during a game of basketball. These incidents reminded me that no matter how fit you are, injury can occur. And there are some injuries that are much more common than others. This month we discuss the dreaded pulled hamstring and annoying ankle sprain.
Pulled Hamstring
If you haven't experienced a pulled hamstring, you've at least heard the term. But what exactly does it mean? As it turns out, the hamstring is not a string at all, but a group of muscles that run from your buttocks down the back of your leg to just above the bend at your knee. These muscles' primary function is to bend the leg at the knee.
A muscle "pull" is the same thing as a muscle strain. When you pull a hamstring, one of the muscles is stretched too far, possibly causing tearing. Pain can range from very mild to severe depending on the injury. You may notice bruising, tenderness, trouble walking, and you might even hear a pop or tear when the injury occurs.
Hamstring pulls are more likely when you don't warm up properly prior to exercise, or when participating in exercise that involves start and stop activities, running, or jumping. The chances of these injuries also increase when there is a muscular imbalance in the leg, meaning the quadriceps (muscles located in the front of your thigh) are notably stronger than the hamstring muscles in the rear of the leg.
Ankle Sprain
Can you believe that approximately 25,000 people sprain an ankle each day? It happens when one of the ligaments that connect your bones is twisted, stretched too far, or snapped entirely. Ankle sprains are common in dynamic sports that require sudden changes in direction or instances where your foot may land on the surface at an angle. Improper footwear and lack of support can also increase the chance of a sprained ankle.
I've had my share of sprained ankles and the pain can range from mild to severe. Swelling, immobility, and bruising are common with this injury. Another indicator is a popping sound heard when the injury occurs. A sprained ankle can not only keep you from exercising, it could prevent you from doing most of the other tasks associated with daily living until the injury heals.
Treating the Injuries
1.  Visit a doctor to make sure your injury isn't more severe than a muscle pull or sprain.
2.  R.I.C.E. – This acronym makes some of the actions associated with injury easy to remember and it can be applied to muscle pulls and sprains all over the body.
Rest – avoid putting weight on your leg
Ice – 20-30 min every 3-4 hours until the pain subsides (this could take up to 3 days)
Compression – use a wrap or bandage around injured area to reduce swelling
Elevation – use a pillow to elevate your leg when sitting. The pull of gravity can help reduce swelling by improving drainage.
3.  Take anti-inflammatory medication to reduce pain and swelling (consult your physician before taking any drug, even over-the-counter items)
4.  For ankle sprains, use a brace for support
With time, mild and minor strains and sprains will eventually heal without medical intervention, but severe injuries may require surgery.
Preventing Injury
Of course the best approach in dealing with injury is to prevent it altogether. Follow the advice below to reduce your chances of strains and sprains.
Warm up properly prior to exercise
Incorporate adequate stretching techniques in your workout routine
Improve muscular balance between your quads and hamstrings by including exercises for each in your fitness routine
Wear proper foot/ankle support
Understand your limitations…some of us aren't teenagers anymore!
Finally, don't rush back into activity. The number one predictor of injury during exercise is previous injury. If you can't move your injured leg through the same range of motion as your uninjured leg (without feeling pain), you're not ready to resume normal activity. In fact, you could cause permanent damage if you jump back into things too soon. Ease back into events – walk before you run, jog before you sprint, squat before you jump. It's much better to voluntarily take the field than be forced to sit on the sidelines.