Caffeine – A Little "Pick Me Up"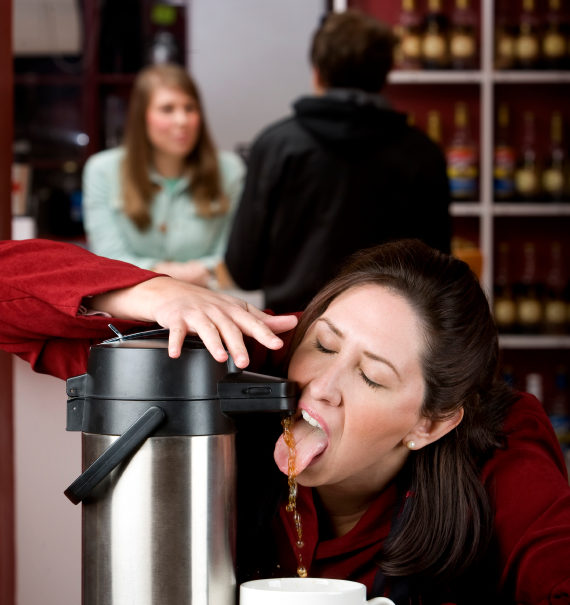 Barista: May I help you?
Patron: Yes, please. I'll take a Double Ristretto Venti Nonfat Organic Chocolate Brownie Frappuccino Extra Hot with Foam and Whipped Cream Upside Down Double Blended.
…Sound familiar? Maybe that's you (I hope not), or maybe your order is much simpler – a Double Tall Mocha with whip, perhaps? (That's my order, by the way.)
Today's culture is all about living busy, playing hard and working even harder. Because of the busy lifestyles, the various options for caffeine and other related products, and the addictive nature of some of these drinks, more people have turned to a daily caffeine boost. And it's not just Americans…the three most highly consumed beverages worldwide all contain caffeine: #1 Tea, #2 Coffee, #3 Coke (sadly).
The Effects of Caffeine
Caffeine has a variety of effects on the body, including an increased heart rate, a slight boost in metabolism, bowel movement stimulation, and a stimulating effect on the entire body's central nervous system. In fact, this strong effect on the central nervous system means caffeine carries a lot of addictive potential
Ultimately results vary from one individual to the next, but caffeine can boost exercise performance and increase how much fat is used during exercise. Some research studies have also shown a correlation between moderate caffeine intake and a decreased rate of some diseases, including Parkinson's and diabetes.
[Side note: Caffeine does not provide energy. It acts as a stimulant and can make us more alert, but energy is derived from foods with calories. In fact, a calorie is a measurement of energy. We can only get energy from carbs, proteins, and fats we consume. Don't confuse energy with being alert.]
Some negatives associated with caffeine are that it can disturb sleep and cause insomnia, and that it can cause withdrawal symptoms, even in the short-term. But the most dangerous risk isn't the consumption of caffeine itself, but rather the fact that many consume it in sugary beverages, making its consumption less healthy overall.
The Bottom Line…and Other Options
There's little evidence that small amounts of caffeine (less than 300mg, or about 2-3 daily cups of coffee) have negative health impacts. Tea and coffee, especially when prepared without cream or sugar, have significant health benefits. But sugar-sweetened energy drinks or high calorie lattes are just as unhealthy as any other high-sugar content food or drink.
As with most things, the key to healthy caffeine intake is moderation. Refrain from being dependent on caffeine, as over time this just leads to higher intakes. Instead, try getting a daily boost from a variety of foods and drinks. Some may give an even greater "feel-good" effect. An example is Matcha green tea, which contains Theanine, a chemical that promotes a relaxing, calm demeanor.
I've tried to be smarter on my caffeine consumption as well. When I do hit the coffee shop (rarely), instead of a Double Tall Mocha with whip, I've started getting just the double shot of espresso with one or two pumps of chocolate. This still provides the caffeine boost, but cuts down on the sugar I'd get from an 8-12 oz. drink. My wife and I also mix unsweetened cocoa powder into smoothies, desserts, yogurt or other drinks for a bit of caffeine and a huge amount of anti-oxidants. Another favorite of mine is dark chocolate covered espresso beans (for those "I really need to stay awake" moments.)
Finally, there's no need to quit caffeine cold turkey. Again, it has positive benefits when consumed in moderation. Be careful of the sugary additives and understand that too much caffeine can cause addiction.