Cycling vs. Running: Which Is Better?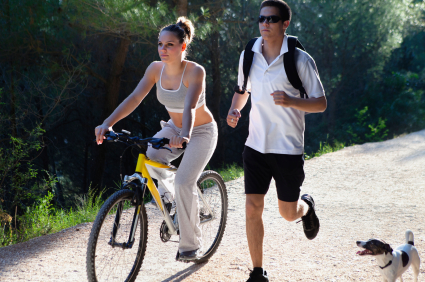 Running is perhaps the longest standing and most popular form of exercise when it comes to cardiovascular workouts. It's important to look at other options, however, when age, injury, or boredom set in. Many more people have started cycling as a viable alternative to running for several reasons.
Perhaps the biggest benefit of biking is its low impact nature. Cycling is less stressful on the hip, knee, and ankle joints and is good for those who cannot run due to previous injury. Riding a bike adds variety to an existing cardio routine while continuing to build cardiovascular and endurance capacity. Biking primarily works the quadriceps and glute muscles, two muscle groups that are important for lower body strength.
For those of you who are thinking back to your childhood days when your bike included an air horn, a bell, and possibly a playing card in the wheel spokes, cycling for exercise is a little different when you're an adult. While riding is just as enjoyable as it was when we were kids, the burn and heart rate spike of biking uphill is undeniable. Although the calorie burn is typically lower than that of running, it's a great workout nonetheless. Many people find they actually prefer biking for longer periods of time than they would run, making the calorie burn comparable.
The benefits of running are no secret. Compared to biking, running requires little to no equipment (just a good pair of shoes). The skill required is minimal, as just about everyone knows how to run whereas some simply don't feel comfortable riding a bike. Running can burn as much as twice as many calories for a given period of time due to the amount of energy expended while supporting your own weight.
If you decide to add biking to your routine, consider the type of riding you'd like to do. A road bike is typically lighter and is used for riding at higher speeds or longer distances on paved surfaces. Mountain bikes are more rugged and allow you to take the bike "off road." (I refer to the road bike as a sports car and the mountain bike as a pickup truck.) There are also hybrid, or comfort bikes, which are somewhat of a mix between the two types.
Prices can range from less than a hundred dollars (for a comfort bike) and into the thousands for high-end road or mountain bikes. As always, you should think about safety first. Trails are abundant in some areas and are typically safer than riding on the road. A helmet is highly recommended, and bright clothing or reflective gear can help others identify you.
Biking can provide a great alternative to running, either as a replacement for those who cannot run or as an occasional substitute to provide workout variety. Running burns more calories and it therefore a better weight loss activity, but riding a bike is less stressful on the joints. Ultimately, choosing the mode of exercise you enjoy will prove most beneficial because it's something you're more likely to stick with.