Need Motivation? Try an Event!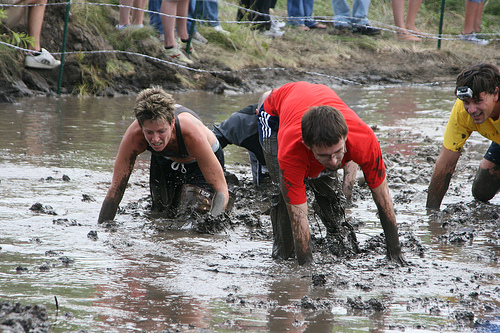 We've all been there. You've been consistent with exercise, but you don't seem to have the same level of motivation anymore. The cardio is getting stale and weight training doesn't seem to be paying off either. Well, you are not alone. Even the most die-hard fitness buffs go through periods of decreased motivation from time to time.
The good news is that there are several ways to get motivated, especially in the spring and summer months. If the thought of strutting your stuff at the beach isn't enough to keep you motivated, try working out with a partner or working with a personal trainer for a few sessions. Having someone else to hold you accountable (friend, co-worker, spouse, etc.) does wonders for motivation.
You may also try local sporting leagues or registering for a fitness event. This past weekend, I participated in a Warrior Dash and rode in Bike DC with some friends. It was great to get out and do something different. It also gave us all a chance to relax together while getting some exercise.
There are numerous races, fun runs, walks, and other events to participate in. By deciding to take part in one of these events, you create a goal that serves as a motivator during your training. Partnering up with a friend or group of friends makes it that much more fun!
There are events for all ages and fitness levels. My 77 year old mother looks forward to the annual Mother's Day Walk in DC every year. She's not breaking any records, but the training gives her much needed exercise and the walk itself serves as a great motivation to work out.
It's important to step back into the time when fitness was fun. Trying new things will keep your workouts and goals interesting and exciting. Ultimately, that will determine your motivation level and how long you stick with it. 
Here are links to some "non-standard" events:
(This post inspired by H.G.)