Seven Nutrition Tips Everyone Should Have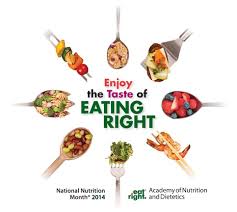 In recognition of National Nutrition Month, we take a moment to relay some of the most important nutrition concepts that can help you each and every day…
Less processed foods will almost always be healthier for you. One way to determine if a food is highly processed is by looking at the number of ingredients it has listed on the nutrition label. The more ingredients it has, the more highly processed the food is.
Home cooked meals are a better option than pre-packed or prepared foods. Perhaps the hardest part about cooking at home is finding the time. Help yourself out by preparing food on the weekends, or keeping key items such as olive oil, onions, and garlic on hand. You can use these items as a starter for just about any sauté with vegetables or meats.
If you have a farmers market nearby, shop and take your children there. Not only are locally grown items fresher, but they also allow your children to better understand where different foods come from. Make them an active part in picking certain items to buy. You'll find that they may be more interested in helping you cook and eat what they've chosen.
Planting a small garden in the yard or on your windowsill is another way to save some money, eat healthier, and instill an appreciation for healthy food in your children. Plant some tomatoes or a few spices to spruce up your meals. Delight in watching your small plants grown into something you and the family can eat!
Although most people think the purpose of food is to satisfy our taste cravings, this is only a very small part of the role food should play in our lives. Food serves as fuel, nutrition, and a way of allowing for family, community, and social interaction.
Remember, that no one is perfect. How you eat over the course of a week or month is more important than a momentary diet lapse or indulgence. If you have children, healthy eating habits can serve as a great example for your kids.
Although it may be less convenient, choose foods with little or no preservatives. In other words, foods that spoil quicker (perishable items like dairy, fresh fruits, and vegetables) are better for you.