Visit randomactsofkindness.org for more ideas on helping others!
TD Fitness RAK Campaign
To participate in the TD Fitness Random Acts of Kindness campaign, simply print the card below and let the sharing begin! You may print as many as you like, use them often, tell others about them, or simply perform a single act of kindness and reap the joy of having made a positive difference in the life of someone you don't know. We've seen many testimonies, ranging from life-changing attitudes to those who simply needed something to brighten their day.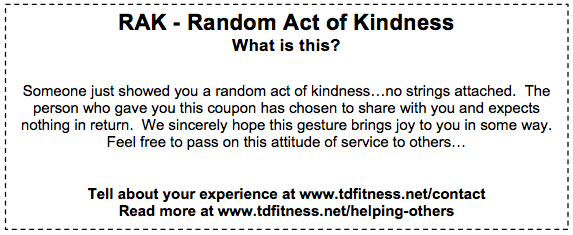 Read Some of the Comments Below!
"I was driving to Walmart and felt the urge to grab of my RAK coupons.  I was approaching a stoplight with the coupon in my hand.  On the right side of my car was a homeless man.  I put cash with the coupon and rolled down my window.  When he saw it, he looked at me and said, "Thank you and God Bless you." But, it was the look in his eyes that touched me the most.  I knew that God was moving in me even before I got to that stoplight that day.  I prayed for him as I drove away and felt the connection that God placed on us both to be at that place and at that time." – M.H.
"My husband and I decided to use our Random Act of Kindness at Olive Garden.  We saw a young couple with a few children and thought to surprise them with a free meal.  So when we paid for ours, we asked the waitress to include their bill as well and then snuck out before they knew it.  The feeling of blessing someone with a simple act of kindness is immeasurable!  It was more of a blessing on us!" – J.B.
"I can't say enough how surprised and thrilled I was to receive one of your R.A.K. coupons when I stopped to purchase my coffee this morning!  I was a little confused when the cashier told me that someone had paid for my drink, but after reading the coupon, I was so overwhelmed and thrilled at the gesture.  I was so excited that visited the website as soon as I got to work and printed coupons that I could give away myself!  Thanks so much for providing this truly unique service!"  – H.L.
"This is awesome!"  D.J.
"I printed this coupon from the newsletter and had been somewhat apprehensive about using it.  I finally decided to give it to the guy at the smoothie bar at my gym.  I paid for a small smoothie and told him to give the coupon to someone throughout the course of the day.  When I went to the gym the following day, he told me what a positive effect it had on the person he gave it to.  In fact, they decided to leave the coupon with him and they paid for someone else's drink!  This is a great idea.  I look forward to giving out many more coupons."  B.W.