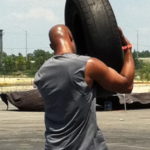 .
.
"My desire to help others is rooted in an upbringing of faith and service. We will work together to help you achieve your fitness goals, live a healthier life, and reach your full potential."
 – Trainer T. 
If you truly want to know more about me, my beliefs, my flaws, and my philosophy, read "The Truth About Me." For information on my background and experience, see below…enjoy!
Areas of Expertise:
Comprehensive approaches to assessments and training, allowing you to move better, exercise smarter, correct muscular imbalances, and reduce the risk of injury
Application of performance training principles (tactical and athletic) to help the general population with weight loss, movement, and activities of daily life
Certifications:
Fitness Training, Athletic Experience:  
8 years of training experience
Experience leading fitness boot camps, small group training, and personal training
Trained in pre- and post-natal fitness
Collegiate athlete
Military special operations (15 years)
Discipline, Organization, and Leadership Experience:  18 years – Pilot, United States Air Force.