To Run Outside or on a Treadmill…THAT is the Question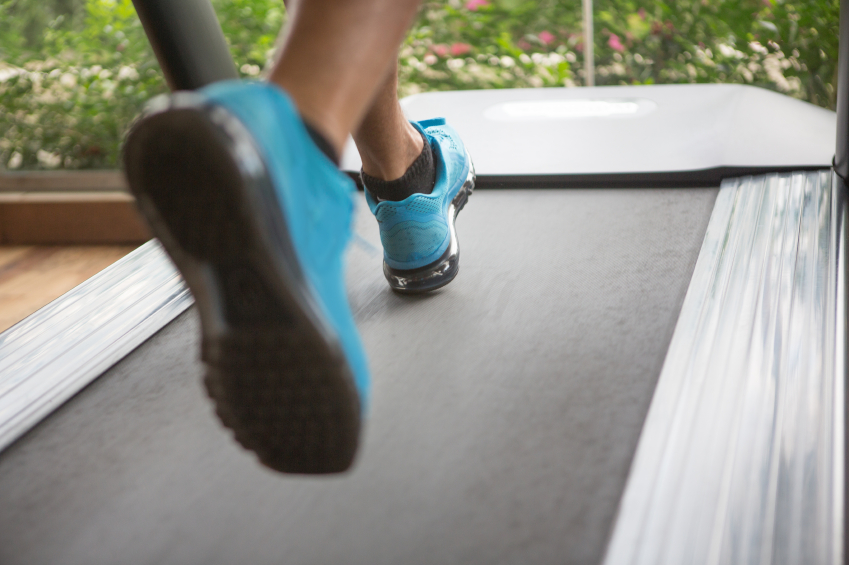 Whether training for a race or simply running and walking as part of an exercise routine, you may sometimes wonder about the difference between using a treadmill and exercising outside. I've been doing a lot more running recently in preparation for an event in two months. And while I try to do most of my running outside, weather and warmer temperatures sometimes prevent me from doing so. I've often wondered how treadmill training compares to actual running or walking…so let's find out!
As it turns out, the benefits of using a treadmill are very similar to those you'd get from exercising outside. Physiologically speaking, there isn't much difference in the two, and research has shown that your treadmill stride is almost identical to running outdoors.
One thing you will need to compensate for, however, is the fact that the treadmill belt is moving underneath you. Therefore, you're not actually propelling yourself forward like you would if you were moving across the ground. To compensate for this, set the incline to 1.0. This equals a 1% incline and the small amount of extra work will allow you to best approximate outdoor running or walking at similar speeds.
Treadmill Benefits
There are certain instances where using a treadmill is actually a better option than exercising outside. If you own a treadmill, it's probably more convenient to use it than to gear up for an outdoor run. Using a treadmill also means you're likely in a climate-controlled setting where you don't have to worry about the temperature being too cold or hot. I also like the fact that some newer models have built-in entertainment features such as TV, radio, or the ability to connect your own music player.
Treadmill training is also more practical when you have specific goals for your exercise session. Interval training, where you target set speeds, is easy to accomplish on a treadmill. The same principle applies when you're doing hill work or shooting for a constant pace. Some people even like the "random" feature, as it can be a way to keep your treadmill workout fresh. From a safety standpoint, most treadmills have shock absorption build in and can be easier on the joints than running on pavement.
Running and Walking Outdoors
The best thing about getting outside to workout is…that you're outside! Running on a treadmill with the same scenery day in and day out can get old. But outdoor running or walking provides fresh air, stimulation for the senses, and a sense of accomplishment. You may have to contend with, or plan around weather and daylight hours, but being in a natural setting forces you to respond to external stimuli. If you're training for an outdoor event such as a race, this outdoor training more closely simulates race day conditions. And you'll be glad that you learned how to pace yourself (without relying on a treadmill belt) when race day comes around.
Whether you choose to use a treadmill or run outside, the simple fact that you're exercising is the most important thing. I'd much rather you ask the question of "treadmill or outdoors," vs. "should I work out or not?" Each form of exercise has certain benefits depending on your situation, mood, and environment. Incorporate both in your fitness and training to reap the benefits of each!